Most giants in the life insurance industry today are seen as reliable, but traditional. This predicament exists not only because of an image problem, but also because the product portfolio of most of these giants has evolved slowly to cater to the changing needs and aspirations of today's population. With an ambition to beat the competition and win disproportionate market share, SBI Life approached us to help them build new life insurance products that would help them crack these new customers and their seemingly unconventional needs.
TinkerLabs approach: Design & Business going hand-in-hand
We had our sights on two things: 1) understand the consumer and his 'unconventional' needs (we at TinkerLabs believe that even the most seemingly illogical needs and attitudes can be leveraged and worked with, provided we understand them in depth); and 2) never to lose sight of business impact/feasibility in life insurance space. Armed with these two and leveraging the industry knowledge that our client possessed, differentiated & impactful insurance products were just a few months away!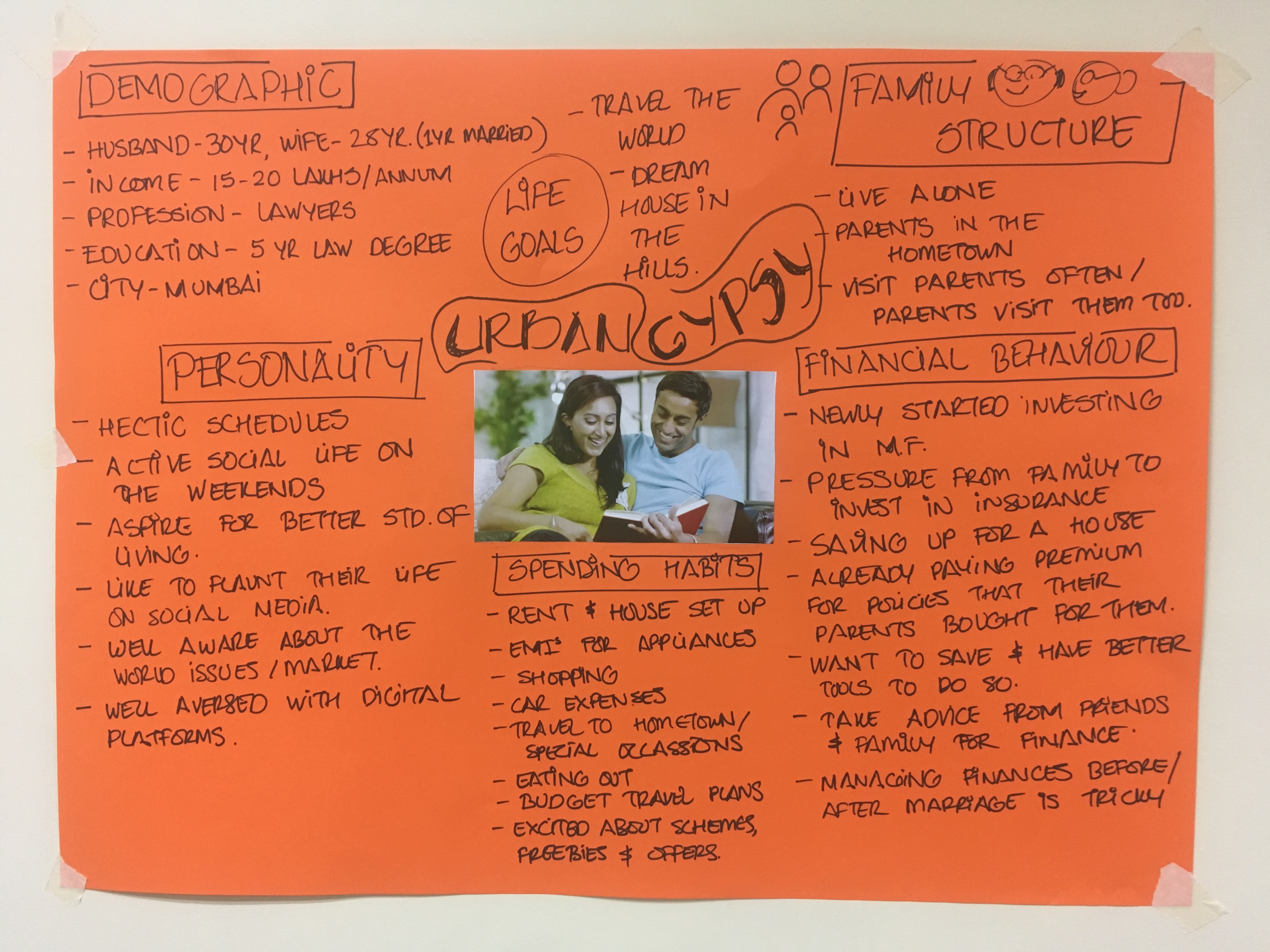 What happened on ground:
Together with SBI Life, we identified 3 broad segments of customers that we believed were:
1) not understood in the market today
2) large enough for the company to gain a strategic advantage if unlocked.
For each of these identified segments, we started with secondary research to understand their attitudes, perceptions towards money, their risks, liabilities, priorities, desires, etc. We married our findings with some primary research (interviewing consumers and financial advisors) to arrive at Customer Journey Maps and therefore, 4-5 whitespaces for each segment. At this stage, we collaborated with the client's internal team (mix of product, sales, marketing folks) to score each of these whitespaces on various parameters to arrive at the top 3 whitespaces that we would be going after.
The next stage entailed getting deeper into each of these whitespaces and the relevance that they had for the given consumer segment. We used a unique research design in which participative tools were used and seven different DGs were created for seven different profiles (including Financial Advisors, Investment Advisors, trend experts, sales managers, users, etc). After the research, we did multiple insighting sessions where the insights from the research were visualized through Customer Journey Maps. Through these insighting sessions, we came up with product, service and marketing ideas. Illustrative storyboards were created to communicate each of these suggested ideas.
Throughout the project, we kept the SBI Life team involved and got them to observe the research as well as participate with us in co-creation sessions. As a result, we were able to leverage their technical expertise and blend it with our process of Design Thinking.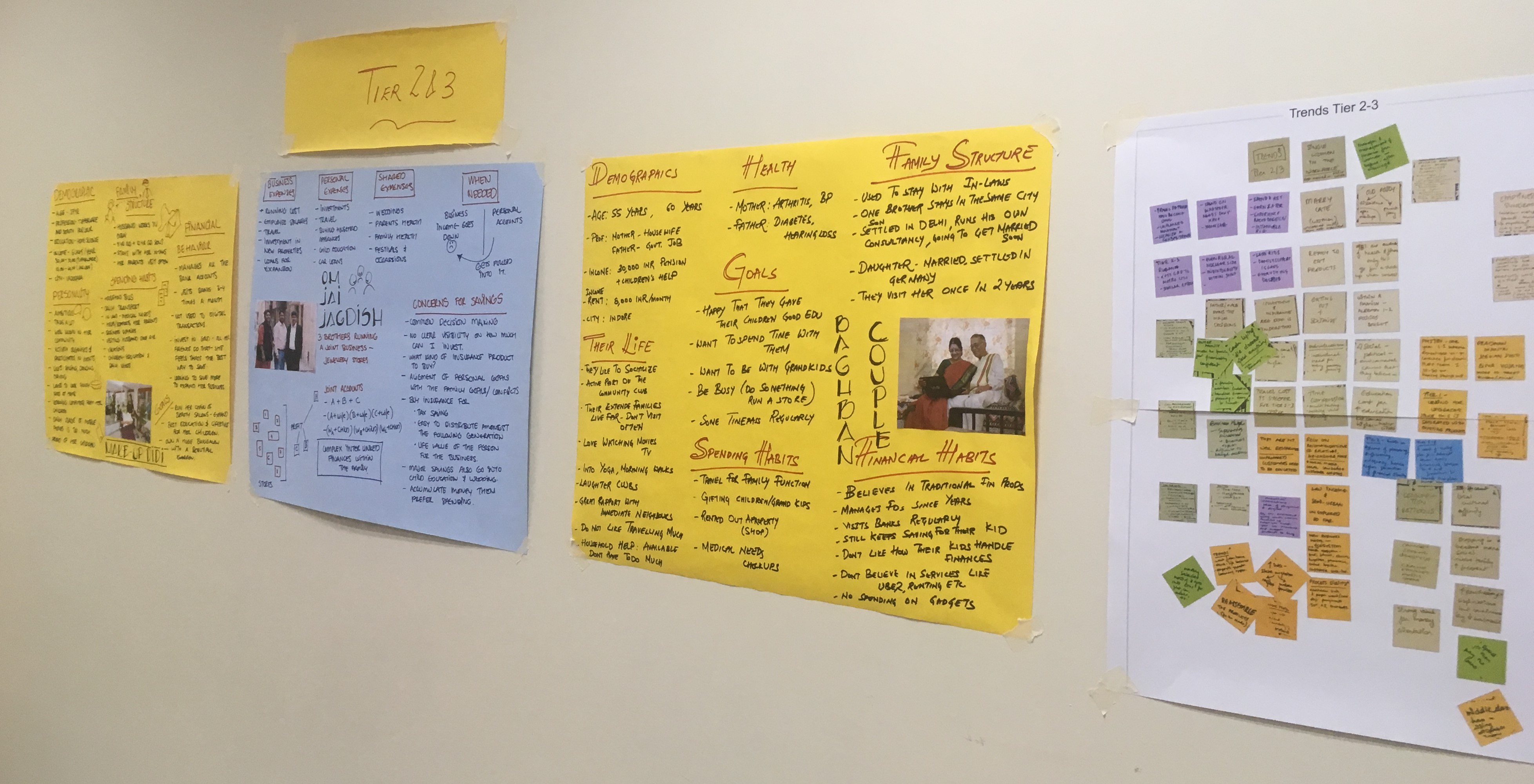 What did we achieve:
Using a unique research design and creative tools to conduct the design research, we were not only able to help SBI Life with product ideas, but also detailed product features as well as communication & marketing ideas for each! SBI Life is now well poised to build these products technically, obtain approvals from regulatory authorities and roll them out to capture market share in 2019!
Highlights of the project:
Since we presented the finding from the project through storyboards and not just a simple ppt, our presentation was turned into a showcase for various business heads by the commissioning team! We had a ball taking our approach, process, ideas, and storyboards through so many business heads in an atmosphere almost similar to an art exhibition!