TinkerLabs in its formative months hosted its first open enrollment program for professionals, enabling them to learn and experience the entire process of Design Thinking. The participants were primarily from Mumbai; hence, it was imperative to choose a theme which everyone could relate to. What is common across the city? What brings people together? With questions like these in mind, we were led to the Mumbai Local Railway – an iconic aspect of the Mumbai city which everyone has either experienced or heard about. Hence, the theme of the workshop was set: Innovating the Mumbai Local Experience.
To our utter surprise, news of this workshop reached the Ministry of Railways who immediately reached out to us stating their full support for this initiative. We now had an exceptional team of 20+ professionals from different organizations along with senior railway officials from operations, PR, maintenance, et al.
TL Approach: shed your biases, connect with the user
After doing a detailed understanding, we realized that Indian Railways as an organization was stuck to incremental and conventional solutions as opposed to breakthrough solutions. We believed that to innovate we had to cut through the in-built hierarchy and bring in diverse minds to collaborate. For this to happen, we planned for an immersive two-day workshop as follows:
Introduce the DT process through relevant examples

Empower them with the DT tools

Exploit the tools on live challenges

Help them understand the relevance of DT in their jobs/roles
Professionals from varied backgrounds and companies participated like HUL, Hansa Research, Consultants from Water & Sanitation (CDD), Central & Western railway officials, digital media, technology, etc. Hence, the participants got an opportunity to work in multidisciplinary teams to understand the railway ecosystem, identify problems and solve them innovatively.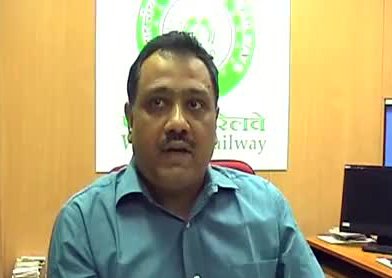 Sharat Chandrayan
Chief Public Relationship Officer, Western Railways (Indian Railways)
A PSU attending such a workshop is a one off - I am so glad I was a part of this different experience. I have extracted two-fold benefits from the workshop: 1) I have applied it on some current problems of Western Railways and realized tremendous results 2) I have transformed my team of clerks to a team of Design Thinkers

What happened on ground:
The teams set off on a journey to visit 3 railway stations in Southern Mumbai, to interact with the users on field. They went out to understand peoples' experiences with daily commute and observed the commuters and their behaviors at these train stations. Teams came back with a lot of interesting insights like- difficulty in boarding the trains in rush hours, under-utilization of ATVMs, overcrowding on staircases and FOBs, lack of aesthetic ambiance on the platforms, usability and maintenance of platform toilets. Some of these did sound trivial but that's the reality at the user's end, solving which leads to a smooth commute experience for the user.
We encouraged the teams to go wild and explore ideas not bothering about what is feasible for a while. With different kinds of ideas prototyped and executed in the form models and roleplays; the teams went back on the field and tested them with the users. The feedbacks from the users helped the participants realize, how important is it to be user centric. At all stages, officials from the railway ministry graciously supported the exercises sometimes as participants, other times as experts.
Through the workshop we could identify many latent needs that can enhance the commuter journey. We closed the workshop with actionable and implementable innovative solutions. Every single participant gathered the learnings and was excited to apply them at their own workplaces.
Overall it was a weekend well spent, where professionals from diverse backgrounds came together to enhance the user experience of the busiest rapid transit system in the world, a network that connects over 7.5 million commuters on a daily basis, the city's lifeline – The Mumbai Local.
What did we achieve:
The senior railway officials created models, processes and new job roles for their team members to become design thinkers.

Using the ideas that were developed and tested during the workshop, the railway officials suggested the following pilot projects:
Tech solution (heat maps) for distribution of commuters across trains & coaches

Entry and Exit markers for on-boarding and deboarding (pilot project to be guided by Mr S Rajvanshy, ADRM, Western Railway)

Simplification of User Interface of ATVMs (user study project to be guided by Mr Sharat Chandrayan, CPRO, Western Railway)

Increase in advertising revenue from platform hoardings (to be pitched to Ms Bela Meena, Senior DCM, Western Railway)

New toilet system by CDD (funding proposal to be sent to Gates Foundation)
Highlight of the project:
The senior railway officials who believed that they have been doing it since years, they know it all; came on the ground with us to find out what the commuters feel/like/dislike/want. The realization of connecting with their users was experienced and felt valuable.
"My entire admin team now wears double hats as design thinkers and goes out regularly on the field to understand how to better the commute experience." Mr. Sharat Chandrayan, CPRO, Western Railways.